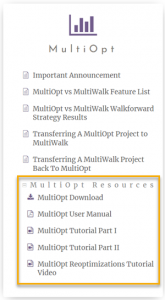 MultiOpt
As of November 1, 2023, MultiOpt is no longer available for purchase.  See below concerning MultiOpt video tutorials, documentation and download.
You can continue to use MultiOpt as it will never expire, but there will be no more updates and support will expire after your first year from purchase date.
MultiOpt Video Tutorials, Documentation and Downloads
All the resources from MultiOpt's website, such as manual, tutorials, and downloads have been moved to MultiWalk's knowledge base page.  Click here and look under category "MultiOpt".  Expand the "MultiOpt Resources" list as seen on the following image.
MultiWalk
When I first began development on MultiOpt in 2017, it started as a small project I was doing for my own algo trading. Since then, MultiOpt has grown into a full commercial product that has helped hundreds of traders! After two years of beta cycles, user feedback and enhancements, MultiWalk is a leap into next level algo development. The website features a full searchable knowledge base that will continue to grow as new content is added.
Special Discount For Existing MultiOpt Users
If you are a MultiOpt user, click here for a special discount to convert to MultiWalk!